Amusement park animatronic Life size shelter Cattle
1).Material: Advance Resin + Fiberglass
2).Movements: None.
3).Sounds: None.
4).Power: None.
5).Accessories included: None.
6).Remarks: All of our animatronics products made up of well treated metal frame ( international export standard) Movements,skined and fleshed with a high density foam , sculpted by our professional artists team with a high grade silicon rubber , which make an alive-look , good touch and smooth movements animatronic dinosaurs .

We also can put your company logo ( The name of the park , exhibition hall, science develop showroom and so on...)on anywhere of our products.

Products can be displayed at dinopark , Zoo park , amusement park , theme park , exhibition show , Museum ,Super market, Playground and any other places which if you want to attract people's attention.Suitable for indoor and ourdoor use.
Our company is professional for making any types of animatronic dinosaurs , animals and artificial plants. We copy and make animals according to the original one . You can feel the charm of the nature and animals world even you are living in the city.
Dimensions : L=3m , W=0.8m , H=1.6m ( This animal can be shipped with a whole unit )
The recovery process of an ice age animal woolly rhinoceros

The teaching equipment in education
The replica's making process of rainforests animals - giant snake

The recovery process of a ancient creatures - giant beaver
This is a robotic animal which can make body movements , which use the material of metal frame inside and silicon rubber outside , engines and gear boxes will be installed into the body of animals

All the animatronic animals which finished in factory will be packed by sponge in order they are very safety on the way to the customers place.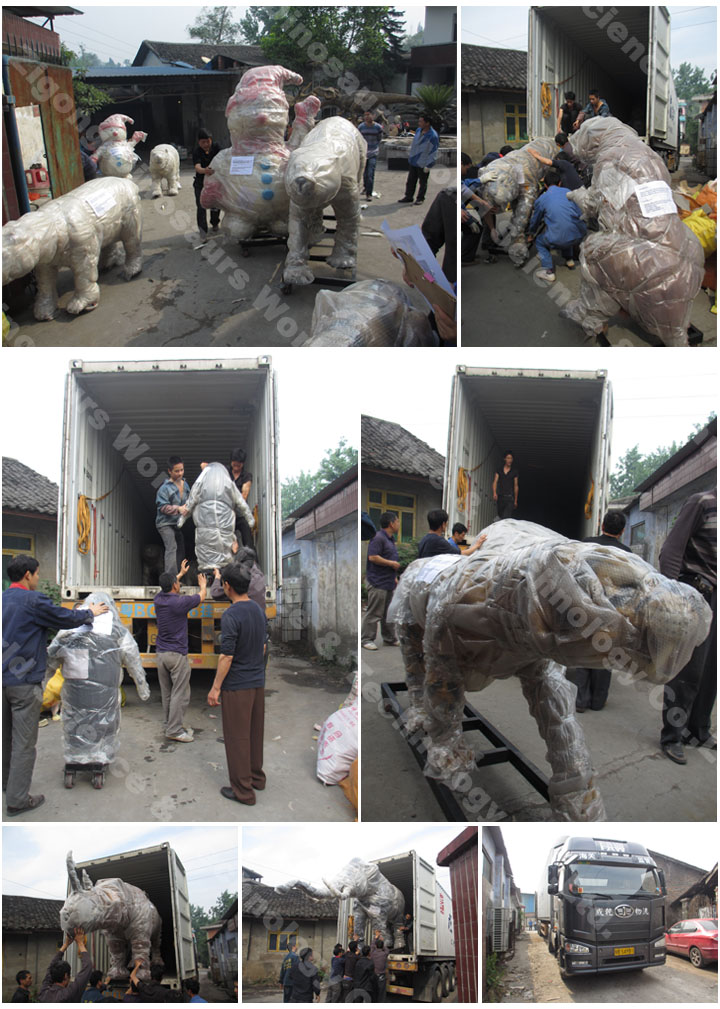 Shipping method and shipping time.
By Air

( 6Days-9Days )

By Train

( 27days-45days )

By Sea

( 21days-38days )

Domestic Carriage

( 3Days-5Days )
Materials of animatronic dinosaurs
| | | | |
| --- | --- | --- | --- |
| | | | |
| High Density Foam | Steel Frame | Stockings | Brushless Motor |
| | | | |
| Paint | Glass Glue | Gear Reducer | Fuse |
The list of the accessories that we sent to clients with dinosaurs together
| | | | |
| --- | --- | --- | --- |
| | | | |
| Sensor | Speaker | Animatronic dinosaur model | Rock Speaker |
| | | | |
| Control box | Artificial Coconut Tree | Remote control | Trunk-shaped coin collector |
Part View Of Our Clients Visiting Our Factory From 2008